한국교육학회 영문저널 (Asian Education Review) 2018투고 안내
본문
​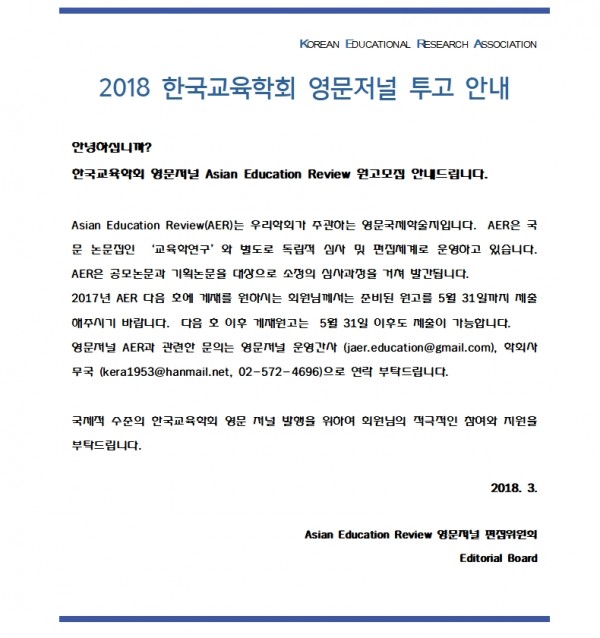 Call for Papers
Asian Education Review (AER)
ISSN:  2508-8610
Asian Education Review
is inviting manuscripts for our forthcoming issue. Asian Education Review is a peer-reviewed international journal, published by the Korean Education Research Association (KERA). The scope of the journal covers all areas and fields of education.
Manuscripts should present a theoretical or conceptual framework, employ appropriate research methods, contribute knowledge to the body
of education literature, and i

nclude a clearly specified research question

. Manuscripts submitted for publication are subject to an editorial review process to ensure a high standard of scholarship. 
Asian Education Review
will consider the following for
publication:
       ·          Studies utilizing qualitative, quantitative, or mixed research methods
       ·          Literature reviews that reveal critical gaps in existing research and apply a rigorous conceptual framework
       ·          Analyses of significant issues in education employing established theories from within education or a related field
       ·          Reports of findings from a larger project (e.g., a thesis or dissertation)
       ·          Education policy analyses focused at the national, regional, or institutional level
       ·          Analyses or critical reviews of historical issues in education
Technical guidelines for submissions:
       ·          Files should be submitted in a Word-compatible file format (e.g., .doc, .rtf).
·          The Manual of the American Psychological Association should be followed (Note: please pay careful attention to rules governing in-text citations and bibliographic entries).
·          A separate title page should be submitted along with the manuscript. The title page should include author name(s), affiliation(s), and a contact email. It should also include keywords and a succinct abstract.
·          Author name(s) should appear only on the title page; any other indications of the authors' identities should be deleted.
Submission deadline for next issue: May 31st, 2018 
*Manuscripts can also be summited before or after May 31st for subsequent issues.
Email your title page and manuscript to the Editor (jaer.education@gmail.com).